Alchemy and Immortality is a book written by Vivian Quicksand in Fable III.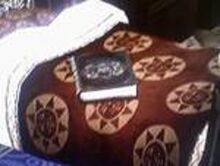 Inside of Bowerstone Castle, head upstairs and turn left until you reach the master bedroom. In the small adjoining room to the right, the book can be found on one of the childrens' beds.
Vivian Quicksand:
Many have sought the Elixir of Immortality, the Secret Wisdom of the Ages, the Hidden Lore that the Emerald Tablet speaks of. Few have found it. And by few, I mean none, and by none, I mean one. And by one, I mean me. And by mean, I mean imply. Anyway-- I have found the elixir, and now everlasting youth is mine! At last, the ultimate dream I realised: to live for all eternity. In that time I will ponder the greatest questions... such as, do I stay my current age from now on, or could I actually be younger forever? And if so, how would that age be chosen? And will my body still change according to diet and exercise, or is there a sort of implied perfect health that goes along with the longevity? And what happens if I'm shot or I fall off a cliff, can that kill me? Am I only safe from a death by natural causes? And what about fertility? Will I be able to have children 10,000 years from now? Hmmm... I might actually need longer than eternity for some of these.
The Elixir of Immortality is possibly a reference to the philosopher's stone, also known as the sage's stone, and the elixir of life sought after by many alchemists from the middle ages to the early modern age.
The Elixir could also be a reference to the fountain of youth.
---
Ad blocker interference detected!
Wikia is a free-to-use site that makes money from advertising. We have a modified experience for viewers using ad blockers

Wikia is not accessible if you've made further modifications. Remove the custom ad blocker rule(s) and the page will load as expected.